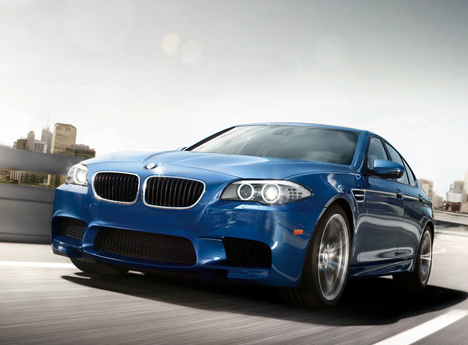 2013 BMW M5
Discount Bentley Prices
Low M5 Lease Payments
All Color Options Available Worldwide Delivery
2013 BMW M5 Review
Well, with the M5, one must remember that it remains unapologetically a heavyweight. It is an executive express, a velvet-wrapped hammer, a shark in whale's clothes. It is not a four-door Lotus Elise. BMW figures M5 owners are richer than M3 owners and that they want commensurate levels of luxury and gizmology. Indeed, you cannot select a gear, push a pedal, or turn the wheel in the new M5 without assistance from the many watchful computers monitoring your every bodily twitch. Even the roar of the M TwinPower Turbo (we just like saying that name), muffled by the turbos and the cabin soundproofing, is partly ersatz, enhanced by a playback of engine noise through the stereo system to give passengers a heightened "acoustic experience." (Two noises in the M5 that aren't artificial are the tick-a-click of the dual-clutch automatic doing its business and, in our test car, a distinct hum from the differential.)
Walkabout A sense of security pervades its every motion on the road, even when you're busting through 100 mph on a riptide of—dare we say it?—profoundly diesel-like torque. The M5 flies through sweepers with a doctor's note excusing it from Mr. Newton's lecture, remaining flat and cool and seemingly impervious to the lateral forces that should roll it heavily to the outside given its relatively compliant suspension. You can starch up the shocks with the "Dynamic Damper Control" button, but even on "Sport Plus," the car doesn't tramp.
The M5 spurns the electric-assist steering in lesser 5-series models for a more natural-feeling hydraulic boost. And thanks to sharper camber and caster settings, the car's commitment to the driver's desired trajectory is firmer than in the wandering 5s and 7s we've driven lately.
When a hairpin comes up, the default stability-control mode is an intrusive buzzkill, cutting power and tapping the brakes even when the M5 seems well within its impressive cornering limits. Switch to the more playful M Dynamic Mode and you begin to see why; the rear just leaps sideways when kicked by the ol' M TwinPower Turbo. To its credit, BMW avoided making the M5's chassis too safe and dull by dousing it with understeer, even if increasing numbers of BMWs now sell in markets with, ahem, new drivers. In this department, the M5 is unquestionably an M. Stand down the stability control entirely and watch the M5 bonfire its tires drifting sideways, spitting smoke and chunks of expensive Michelin Pilot Super Sport rubber.
Yet, a slight fog of artificiality is there. The steering does everything you could desire—everything, that is, except talk back with those little organic tugs and sags that make lively cars feel, well, alive. What does tug and sag a bit is the power delivery as the M TwinPower Turbo's boost crests and falls. We're not talking lag here because there really isn't any, just faint disturbances in the g-force that will bother some old Jedi knights who love long, linear windups to stratospheric redlines.
The previous V-10 had an 8250-rpm redline. With the M TwinPower Turbo, Elvis pretty much leaves the building at 6000, though the revs go to 7200 rpm, su
pposedly for track-day lappers who like to hold gears longer—and, we suspect, to uphold the M tradition of making spin-dizzy engines. The tall gearing of the seamlessly proficient seven-speed, with its two overdrive top gears handing off to a 3.15:1 axle ratio, is well matched to the M TwinPower Turbo's torque curve, or lack of curve, as it were. The torque "peak" of 502 pound-feet is more of a mesa, arriving just off idle at 1500 rpm and not fading until 5750 rpm, ­figures for a gasoline engine that would make even Herr Diesel envious.

Summary Change, like cold gazpacho, always has its haters. Atavists will doubtlessly cry out that M has abandoned them with all this turbo madness. To paraphrase a recent comment on our website: When the M5 got a V-8 for 1998, people said they missed the inline-six. When it got a V-10 for 2004, people longed for the V-8. That is all true, as is the fact that the new M5 remains a delectably sweet reward for personal financial success. And if the next M5 is a diesel-electric hybrid that hits 60 mph in three seconds flat, will we say the same? Maybe, but only if BMW comes up with an even better name than M TwinPower Turbo.